If you enjoy freedom and nature, you will love living in Manitoba once you receive your Permanent Resident Visa for Canada.
There are many jobs available there, and the unemployment rate is often lower than any other province or territory in Canada. Canadian Visa Expert provides immigration services to people who want to move to Canada to live and work.
The population of Manitoba is around 1.2 million people, and the province is located between Saskatchewan and Ontario on the Canadian prairie.
The terrain is flat and grassy and is ideal for agriculture. There are beautiful forests of pine trees and national parks that are filled with spectacular sights. Manitoba provides many opportunities for sports such as fishing, hiking, camping, sailing, water skiing, and more.
Canadian Visa Expert has helped thousands of foreign immigrants to explore their options to move to Canada so they can enjoy these spacious surroundings.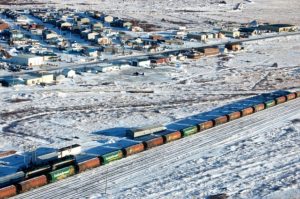 While there are over 100,000 lakes in Manitoba, two of the more popular lakes are Lake Manitoba and Lake Winnipeg. Lake Winnipeg is the tenth largest freshwater lake on Earth. It's not unusual for polar bears to roam in the northern area of Manitoba, along with numerous deer, moose, wolves, and over 140 species of birds.
Those who love nature and enjoy the peace and quiet of the "Great Outdoors" often decide to settle in Manitoba over busier provinces once they receive their Canadian Permanent Resident Visa.
The largest city in Manitoba is Winnipeg, which is also the provincial capital, and it has a population of about 784,000 people as of 2013. There aren't any other large cities in Manitoba.
The second largest is Brandon, which only has about 46,000 people and the third largest is Steinbach, which has a population of less than 13,000.
For those wanting to live a city life, Winnipeg is a good fit, but there are plenty of options for those who enjoy rural living. Canadian Visa Expert has helped many people have the opportunity to move to the province of Manitoba and other areas of Canada.
There are many things to do in Winnipeg. Festivals are held each year such as the Winnipeg Folk Festival and the Winnipeg Jazz Festival. For hockey lovers, the Winnipeg Jets play regularly. There are also cultural events such as opera, symphony, and ballet, as well as many museums such as the Winnipeg Art Gallery and the Manitoba Museum.
Many people who are issued their Permanent Resident Visa to Canada enjoy the many opportunities of Manitoba without the hassle of the big city. With its strong economy and low unemployment rate, Manitoba has one of the strongest industrial sectors of the provinces in Canada.
Some manufacturing industries in Manitoba include forestry, retail, agriculture, aerospace, and mining. If you are ready to move to Manitoba or another province within Canada, contact Canadian Visa Expert today!