Yaye Peukassa, an employability and entrepreneurship counselor with the Société Economique de I 'Ontario (SEO), attended Destination Canada in Paris. It was a major federal government event and he is the organization's first official assigned to recruiting skilled workers for northern Ontario.
Over 600 people stopped by SEO's booth to express interest in working in Ontario, with several of them having experience in aircraft maintenance, mining, IT, finance, and construction. Canadian Visa Expert has a Five-Phase Process to help simplify the Canadian worker visa process.
If you qualify, you may be able to work and live in Canada and take advantage of the many job opportunities available for you and your family.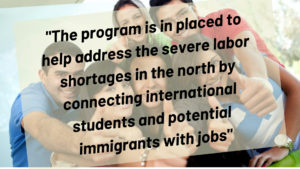 Although most of them would have chosen Toronto as the ideal location, Peukassa convinced them northern Ontario would be a better option due to the lower cost of living and less competition for skilled jobs. The program is in placed to help address the severe labor shortages in the north by connecting international students and potential immigrants with jobs. Emily Lauzon, also involved in the program, has been working to keep 4,000 international students living in the northern region. Lauzon said Sault College has recently announced a plan to target their international students to help produce graduates that can immediately fill labor shortages in the northern Ontario area.
There are many open job positions available for you in Canada. Contact Canadian Visa Expert for help obtaining the required visa to live and work in Canada. Their team of experienced professionals will review all of the legal paperwork and government documents to help the process go smoothly.